Saint Mary's Orthodox Church marked a huge milestone in its history of serving the Corning, New York area for 108 years. The holy consecration of its new church, a project that began as a dream and ended almost 23 years later with a beautiful new home to worship our Lord and Savior Jesus Christ. The church, placed under the Protection of the Holy Birth-giver of God, the Ever-virgin Mary originally sat upon a hillside on Sunset Drive in Corning, NY, with no off-street parking and over 40 stairs to climb every Sunday and Feast day now sits on a 2-acre parcel (with no stairs) and with ample parking, with a social hall and kitchen all under one roof.
In 1999, under the guidance of their pastor, V. Rev. Stephen Loposky, this small parish formed an exploratory committee to examine its options, whether should they stay, and make improvements to the 'old' church, or shall they build a 'new' church? The major obstacle of the stairs with no off-street parking along with major repairs that were needed on the church and with no suitable property in the Corning area, it was recommended to the parish at the annual parish meeting that we should relocate and expand our search to include property outside of Corning. After looking at and evaluating several other properties including a Roman Catholic Church, a former Elks Hall, along with the current site, it was decided to purchase property on Canada Road, a 2-acre parcel with an old farmhouse which now serves as the church rectory. The Canada Road property was purchased in 2016 with His Grace, Bishop Gregory of Nyssa, Ruling Hierarch of the American Carpatho-Russian Orthodox Church of NA blessing the grounds of the new site prior to the start of construction.
The weekend of April 1st and 2nd, 2022 began when His Eminence, Metropolitan Gregory arrived on March 31st. On Friday, April 1st the Holy Relics of Saint Barbara, Saint Pantaleon, and a monastic father of Mount Athos were received into the church and placed upon the Altar where they would be entombed during the consecration service the next morning followed by Great Vespers with His Eminence, Metropolitan Gregory presiding assisted by Protopresbyter James Dutko, dean of the Southern Tier Deanery andn Pastor of Saint Michael's Orthodox Church Binghamton, NY; Rev. Daniel Mahler, host pastor; Rev. Nathaniel Choma, Pastor of Saint Mary's Church, Endicott, NY; Rev. George Ellis, Pastor of Saint Mary's Orthodox Church, Cheektowaga, NY; Economos R. James Scott, former Pastor of Saint Mary's and Pastor of Saint Athanasius GO Church, Elmira, NY; Deacon Charles Ellis, Saint Michael's Orthodox Church, Binghamton, NY; and Reader Gabriel Thomas, Saint John the Baptist Orthodox Church in Nesquehoning, PA. After Great Vespers, refreshments and a light meal were served in the church hall for His Eminence, visiting clergy and guests. On Saturday morning, joining His Eminence, Metropolitan Gregory and the visiting clergy was Protopresbyter David Cochran, Pastor of Saint John the Baptist Orthodox Church in Bridgeport, CT, the home Parish of Father Dan and Pani Joan. Presentation of Hromota's (Certificates of Recognition) were presented by His Eminence to the following individuals Theodore Kerrick; Daniel H., Paul Topichak, and Carole Herrlich in nonor of their love and dedication to God, the Orthodox Church, the Diocese, and to their parish. Immediately following the consecration service Divine Liturgy was served.
Leading the singing of the responses for all services a son of Saint Mary's and the son of Father Stephen and Pani Daria, Seminarian Sam Loposky a student at Saint Vladimir's Orthodox Seminary in Yonkers, NY. Joining Seminarian Dylan Kelemecz, Seminarian Nicholas Worobey, Seminarian Aydin Zill students from Christ the Saviour Seminary in Johnstown, PA.
A Buffet Banquet was served in the Church Hall following the Divine Liturgy.
Prayer Corner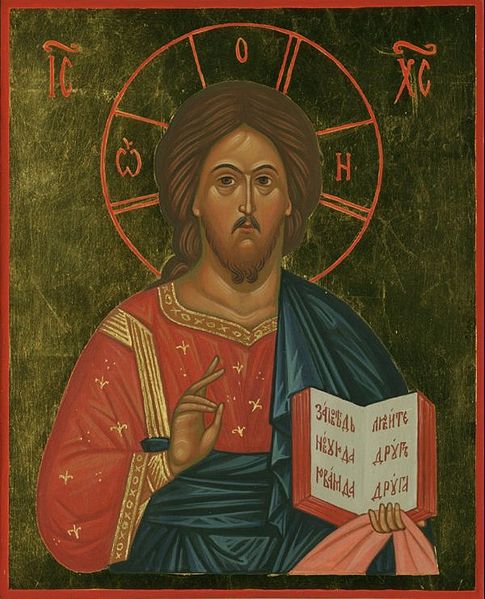 Saints Feasts and Readings
For
Listen To The Lives Of The Saints Commemorated Today
Visit the Prayer Corner for more daily readings, hymns, a monthly calendar of saints and feasts, and more.
---